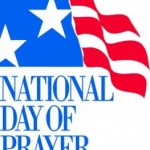 "First of all, then I urge that supplications, prayers, intercessions, and thanksgivings be made for all people, for kings and all who are in high positions, that we may lead a peaceful and quiet life, godly and dignified in every way." – 1 Timothy 2:1-2 (ESV)
Today is the National Day of Prayer.
Let us use this as occasion to remember our nation in believing prayer before the Lord God.
Our country is filled with many political, social, economic, cultural, and spiritual problems. But nothing is too hard for God.
It happens after prayer!
Tonight at 7 PM the Shiloh Church will meet for worship to give thanks to God and to pray for our great nation.
I plan to preach tonight, as well.
You can watch the service online at www.smbcjax.com