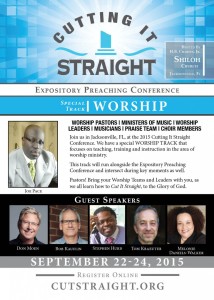 The following is a guest post by Joe Pace who is the Pastor of Worship & Arts at the Shiloh Church, where I serve as Pastor-Teacher.
WHAT'S THE WORD ON WORSHIP?
Colossians 3:16 tells us that there is an inextricable link between the preaching/teaching ministry and music ministry in our worship.
"Let the word of Christ dwell in you richly, teaching and admonishing one another in all wisdom, singing psalms and hymns and spiritual songs, with thankfulness in your hearts to God."
To be even more clear: YOU JUST CAN'T WORSHIP WITHOUT THE WORD!!
[Tweet "YOU JUST CAN'T WORSHIP WITHOUT THE WORD!!"]
No matter how gifted or talented you are, you cannot worship without the Word! No matter how clever your musical arrangements, you cannot worship without the Word! No matter how charismatic you are or how the people sing your praises, you cannot worship without the Word! No matter how beautiful your auditorium is, or how well "produced" your service worship flow, you simply cannot worship without the Word!
DISCLAIMER: Now I do not come to this post as some kind of righteous authority. I too was a part of the problem, with no real appreciation of or respect for the priority of the word and it's alignment with the worship. I was at one point that musician that felt my gift was bigger than the Word… That musician who played behind the Pastor while mad at the Pastor I was playing for… "Playing Church" so to speak… So trust me, I've been walking this out (the good and the bad) for many years, and even now, I am STILL learning how to more effectively "Cut It Straight" as a worshiper. That being said, here are just a few thoughts about keeping Word & Worship in proper alignment:
THERE MUST FIRST BE PERSONAL ALIGNMENT –
We can't really align word and worship publicly without first making sure we are in alignment privately… personally.
THE WORD OF GOD IS ALWAYS THE PRIORITY –
"…music is not the central act of Christian worship, and neither is evangelism nor even the ordinances. The heart of Christian worship is the authentic preaching of the word of God." –Dr. Albert Mohler
YOUR TALENT OR GIFT CANNOT SUPERSEDE THE PRIORITY OF THE WORD –
Talents come and talents go… But the Word Of God remains forever! God is not calling for your riff, run, or arrangement. God is calling for the proclamation of his truth
PASTORS MUST NEVER ABDICATE THEIR RESPONSIBILITY TO MAINTAIN THE PRIORITY OF THE WORD –
 "This has become the age of the sermonette, and sermonettes make Christianettes." –-Michael Green
"…IN SPIRIT AND IN TRUTH" – LESSONS FROM JOHN 4
It is only with the truth of God's word that real, transformative, life-changing worship can take place. There will always be an inherent disconnect when the worship (music) itself is not based in biblical truth.
This matter of alignment of Word & Worship, is one of the reasons we have added a special Worship Track to this year's 2015 Cutting It Straight Expository Preaching Conference. We want to offer biblical guidance and practical help in dealing with the relationship between music and preaching in corporate worship.
We will focus on teaching, training, and instruction in the area of worship ministry with sessions being taught by the likes of: Don Moen, Bob Kauflin, Stephen Hurd, Tom Kraeuter, and Melonie Daniels-Walker. I'll also be teaching a couple of sessions on Worship planning and administration. There will even be a special Worship Leader's breakfast taking place… It will really be an incredible time!
We hope to see you there! Register today at cutstraight.org to secure your team a spot.
In His Service,
Joe Pace